wlsetup-all-en_USSupport for Windows XP from Microsoft has long since ended, and although Windows Update still kind of works (you have to run the "Express" option a few times, and install Microsoft Update, before "Custom" works), attempts to install Windows Live Essentials fail miserably with the cryptic error message "OnCatalogResult: 0x80190194".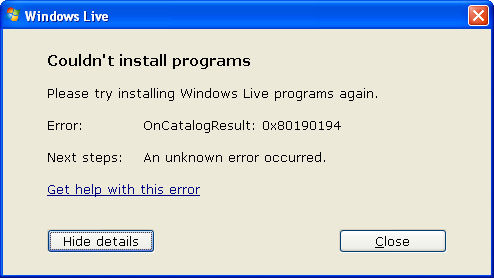 Downloading the installer manually was suggested on a few sites, however, downloading and running wlsetup-web.exe from Microsoft gave me the same error message on install. Cue the offline installer. However, the previous links to download the offline installer, such as http://g.live.com/1rewlive3/en/wlsetup-all.exe, are now dead. The Internet Archive came to the rescue, and I was able to download it from there.
I've archived my copy of it here, for future reference. Feel free to grab it, or use the archive.
UPDATE:
Someone asked be about the version for Windows Vista. I personally haven't tried these, as I don't run Windows Vista anywhere, but the latest version of Windows Essentials, 16.4.3528.0331, is available here:
English (United States) ==> (local archive)
English (United Kingdom) ==> (local archive)