Posted on May 18, 2011


rdesktop on Linux will give this warning message when connecting to a Windows machine which has not been configured for 24-bit color RDP connections. This has, amongst other things, the effect of showing some horrible, jaggy desktop icons. See the pictures on the right for reference.
On Vista, Windows 7 and later (?), the solution is simple: Use 32-bit colors (-a 32)
On XP, which doesn't support 32-bit colors, it gets a little more complicated. XP does support 24-bit connections, but this mode is disabled by default because of bandwidth concerns and bad choices.
To fix this problem on XP (nothing needs changing on the Linux or Windows client) you need to access the Local Machine Group Policy editor.
If you're lucky, going to Start -> Run -> "gpedit.msc" will work for you. Type "gpedit.msc" without the quotes (and click "Run").
If that does not open the group policy editor, this is the long way around:
Start -> Run and type in "mmc"
Add the Group Policy snap-in by going to File -> Add/Remove Snap-in -> Add -> Group Policy Object Editor -> Add -> Finish (Local Machine) -> Close -> Ok
In the Group Policy Editor, navigate to Local Computer Policy -> Computer Configuration -> Administrative Templates -> Windows Components -> Terminal Services, and double-click on the 'Limit maximum Color Depth' object.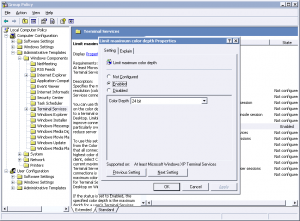 Set the item to "Enabled" and set "Color Depth" to "24 bit"
Click OK, then log in with the remote client. If the changes haven't been applied, reboot the server.
Rejoice with your new, shiny desktop icons and full 24-bit desktop.