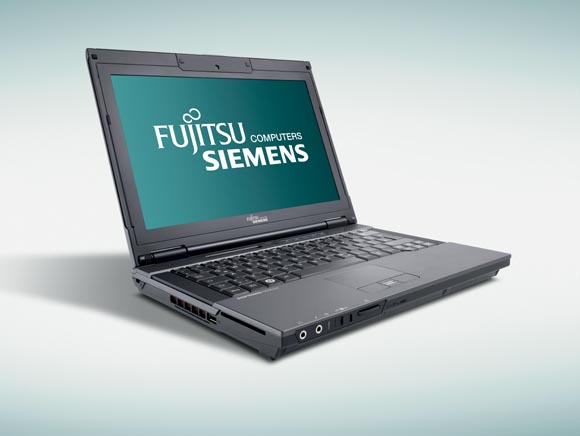 I recently picked up a brand new vintage 2009 business targeted netbook, sealed in box – the Fujitsu Siemens Esprimo u9200 (fact sheet) (review => archive). At just short of 2KG (4.37 pounds) it's rather bulky compared to today's netbooks, but as a rather disposable piece of equipment for travel, which I'd be perfectly fine with leaving at a customs office or having stolen (same thing, I guess), it's great.
This netbook is from the era during which companies were offering "downgrades" from the included Windows Vista to Windows XP, as loads of people preferred that, and like many cheapass economical machines at the time, it wasn't really capable of running its included operating system at a satisfying speed. With Windows XP, however, it's a different story. In fact, using SpeedswitchXP, it can even be permanently underclocked, which makes the fan shut up, and the operating system still performs adequately.
Disclaimer
Windows XP was never is no longer safe for daily use. It's old, technically outdated, insecure, and many modern browsers no longer support it. When used carefully, as a machine to remote into other things, and when routing all outbound traffic through a VPN, I believe it's usable, but I wouldn't recommend it to anyone.
Drivers
Windows XP, even with SP3 preinstalled on the CD, does not contain the drivers for the SATA controller in the u9200. While these can be loaded by pressing F6 during the installation, with a USB floppy drive connected, it's much more elegant to burn a custom Windows XP install CD with the drivers included, using a process known as slipstreaming. For this, a program called nLite can be used. Wayne Zimmerman has an excellent writeup on how to do this over here (archive).
As for the drivers required for the u9200, I couldn't find them on the Fujitsu support page, but the one for the Asian market still had them. I stuffed them all in this zip file: u9200_drivers.zip
While the bulk of the drivers are awesome to slipstream onto the CD, giving you full screen resolution, networking, etc. from the get-go, the SATA driver is unfortunately not the correct kind for loading as a plug-in storage driver during the install. For this you need the special "f6 floppy", which you can get directly from Intel. Or here: STOR_all32_f6flpy_9.5.0.1037_PV.zip
IMPORTANT: When slipstreaming the "f6flpy" driver, DO NOT add it as a "Regular PNP driver" (do this with the rest). You want to add it as a Textmode driver (this is the kind available during text mode install, and thus when selecting the install partition), and you want to specifically select the "Intel(R) ICH8M-E/M SATA AHCI Controller". If you do not do this, your install CD will still not find the drive.
Selecting the driver should look something like this: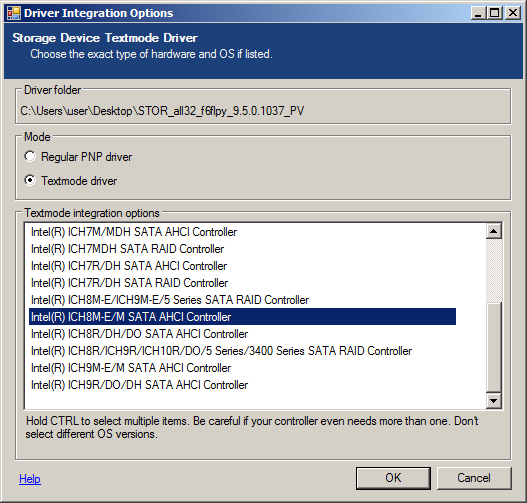 All ready to go: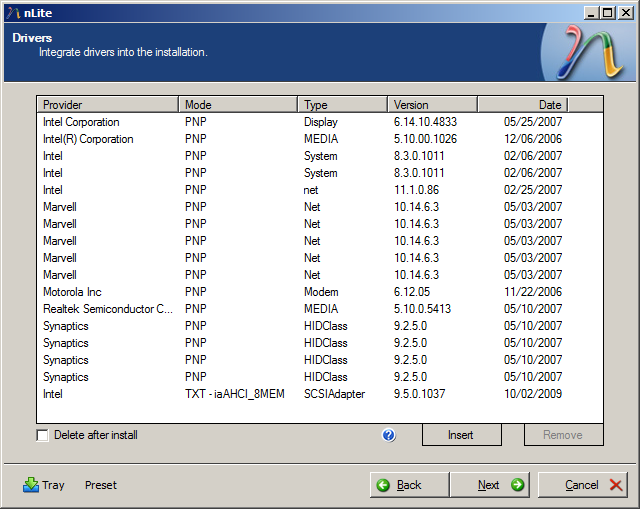 And that's it! The Windows XP installer should now recognize your drive (I replaced mine with a cheap SSD, and it still worked). Enjoy the Windows XPerience.
Some useful registry tweaks for XP
Themes
Finally, some useful programs
..and for if you decide you want Windows 7 instead, installed from USB