WARNING: This post is very specific to an old laptop, probably only interesting to anyone looking to upgrade such a machine. I warned you.
I have an unhealthy obsession with "maxing out" machines, especially older ones. It was time for the chunky old Vostro 1700 that now runs Windows 7 instead of the version of Windows XP I installed previously. From various forums I gathered that the laptop's beefiest configuration from the factory was a Core 2 Duo T9300 CPU and 4 gigs of RAM, available towards the end of its production run.
The Vostro 1700 features an excellent keyboard (for my taste), and a clear and bright full HD matte finish 17″ LCD screen, which is the reason I keep it around. It does Steam in-home streaming reasonably well, and remote desktop to more powerful machines is of course flawless.
Anyway, not going to settle for the factory maximum, I decided to get hold of some memory and a C2D CPU from eBay. The result was a C2D T9500 CPU, which is a tad faster than the T9300, but with similar power requirements, as well as two sticks of Samsung 4GB DDR2 SODIMM ram, which would have been stupid expensive back in the day. These guys estimate well over a hundred dollars, even from eBay, which this machine frankly isn't worth, but today it's a mere fraction of that.
Annoyingly, it turns out that even with the most recent BIOS, version A07, 8GB RAM makes the machine hang during initialization. I was, however, able to get 4+2GB to run, after it spent around 10 minutes thinking about it at first boot. For some reason the thing takes ages to boot the first time after a change in the amount of system RAM.
Now for some before and after shots of the Vostro 1700, first with 4 gigs of ram and a T8300 CPU, and then with 6 gigs and the T9500.
Before: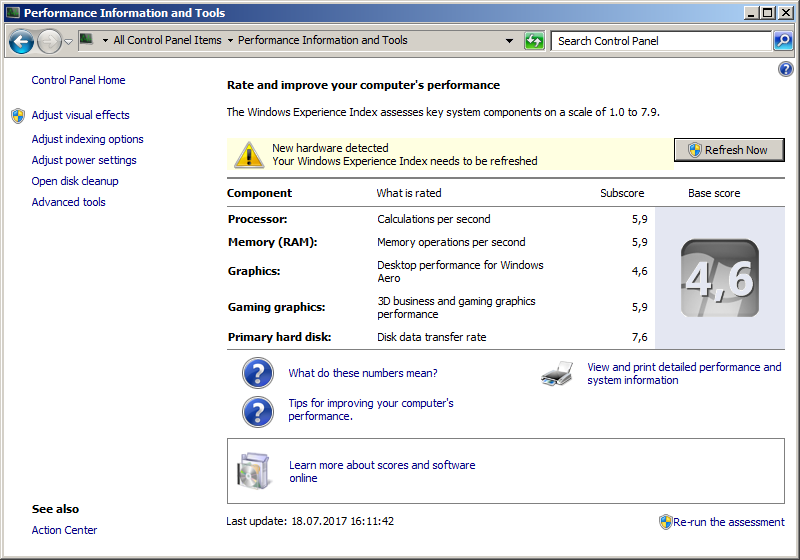 After: